Use Bach to Make It Better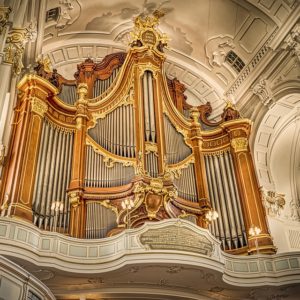 Yo-Yo Ma is planning to visit 36 cities for a new project.
This article was written by Zachary Woolfe, and it appeared in the New York Times.
Leipzig, Germany – While it's impossible not to think of Johann Sebastian Bach as you walk through this city, where he spent the final decades of his life, what little remains of his world here has been altered almost beyond recognition.
The house where he and his family lived was demolished a century ago.  Next door, St. Thomas Church, where Bach was a cantor from 1723 to 1750, was overhauled in Gothic Revival style in the 1880s/  St. Nicholas Church, where the "St. John Passion" was first performed in 1724, got its current cupcake-pastel interior decades after Bach died.
And Bach certainly would never have heard Arabic being widely spoken, as it is now, in the bustling, largely immigrant neighborhood of Neustadt.  It was here, on a mild weekend afternoon recently, that Yo-Yo Ma bounded into a room in a community center, Stradivarius cello in hand, and moved swiftly around a seated circle of adults and children, grinning and giving one long high five.
"The most important thing is to bring all of yourself into a moment," he said the next day. "If for even one second you're like,'Oh, I have to go do this,' people are really smart.
They can see when someone is there, or just not quite there."
Mr. Ma, 62, was entirely there.  He stayed in the community center only about half an hour, but without seeming rushed, he blended disarming generosity – he gave two budding cellists his instrument to try out in front of the group-with a kind of subtle social work.
"Learning a new piece is like moving from one place to another," he said in answer to someone's question, connecting music-making to the lives of the migrants without making too big a deal of it.